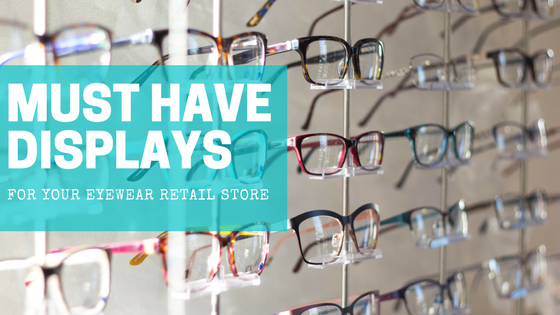 Must Have Displays for your Eyewear Retail Store
One of the easiest and most effective ways to differentiate your eyewear is an attractive display that can fully show off all of your merchandise to your customers. These displays ensure that your products look their best and that customers have an easy experience interacting with your products. They also let your customers gather as much product information as possible, leading to a more informed purchase and, ultimately, more satisfied customers. But with so many display options, choosing the one that works best for your business is challenging. Below are some of our favorite must-have eyewear displays and accessories to make choosing one for your business a little bit easier.
Wall-Mounted and Rotating Displays
Consumers love being able to browse and try on different styles of eyewear, and the more you let them browse, the more likely they will be to purchase one of the products that catches their eye. Wall-mounted displays make it easy to present your eyewear in an attractive and secure way, allowing your customers to browse and try on as many pairs of glasses as they like. These displays are so popular because of how easy they make the shopping experience.
Another way to encourage browsing inside your store is a rotating stand-alone display. These displays still encourage your customers to browse around your store and try on different pairs of glasses; however, they allow your customers to try on more pairs more quickly and make a decision faster. Not to mention, their ability to rotate makes these displays a captivating and attractive way to present your eyewear to customers.
Presentation Boxes
If you would like your customers to have a more intimate experience with the eyewear you offer, a smaller and more controlled display option might be what you are looking for. Presentation boxes are a simple yet elegant way to allow your customers to try on your eyewear and browse. These boxes, while offering a smaller selection than a wall mount, are a great way to present luxury brands of eyewear and give your business an elegant and exclusive feel for customers. These boxes make the customer feel like the center of attention and make them feel waited on and cared for as they search for their next set of glasses. Additionally, these boxes allow you to keep an eye on more valuable inventory that you may not want displayed as freely as other brands.
Compact Displays
If your business occupies a smaller space, then you will want to make the most of the space you are given, and that might mean that you cannot install a wall mount. However, compact displays are an easy and still effective way to maximize the space available at your storefront. Similar to wall mounts and stand-alone rotating displays, these smaller displays still encourage your customers to browse around your store and try on lots of different eyewear–they just take up less space.
Easy Assembly and Storage
For businesses that are constantly changing out their offerings and rearranging their store layout, having a display that can be easily stored or reconfigured is crucial. Fortunately, these two-piece compact displays are not only easy to assemble and store due to their lightweight and simple construction, they also add a pop of color and contemporary style to your store's interior and make your inventory look as good as possible. Not to mention, these displays are also great at encouraging consumers to try on and compare different brands that you offer.
As you can see, there are quite a few options when it comes to how you can choose to display your eyewear inventory. However, the choices listed above are a guaranteed way to make sure that your products look incredible while on display for your customers. While making your products look great, these displays are also user friendly for your customers and encourage them to shop around and compare within your store. Great displays mean better-looking products, a better shopping experience and an overall happier customer. So the next time you need a creative and captivating way to display your eyewear products, E Focus has the solutions to your eyewear display needs. Check out our huge selection of displays here.