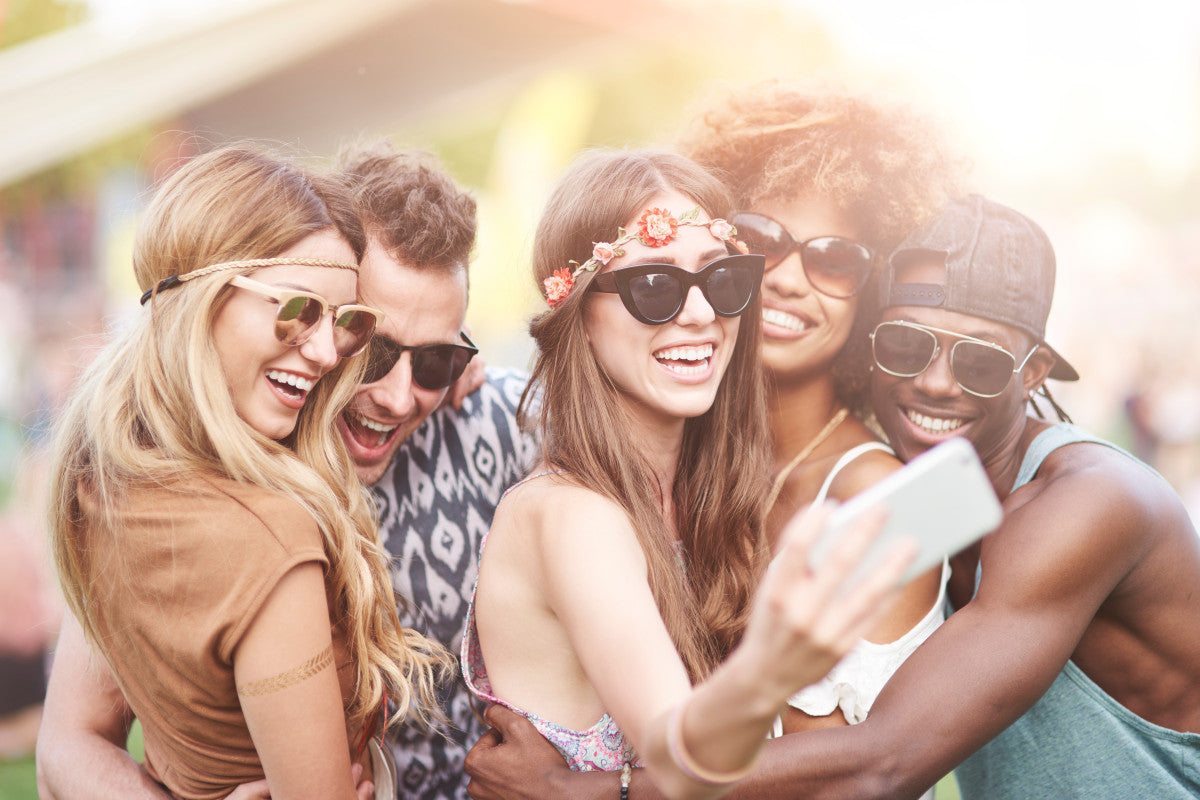 How To Spot the Next Sunglasses Trend
Whether they are shown on or off screen, sunglasses have become a cultural icon of fame, luxury and cutting-edge style. The image of Arnold Schwarzenegger uttering his famous words "I'll be back" in a bold pair of shades, or the effortlessly chic Audrey Hepburn perusing the windows of Tiffany & Co. in the streets of Manhattan behind a pair of big sunglasses are images we're all well familiar with. An indispensable part of the fashion industry, sunglasses have permanently fixed themselves into a culture of cool and have consequentially become one of the most sought-after accessories on the market.
Like the entire fashion industry, sunglass trends are constantly changing, so keeping up with the latest styles can be a challenging and time-consuming feat. Luckily for you, there are several easy ways to stay up to date on today's on-trend sunglasses!
Instagram
In recent years, Instagram has grown immensely in terms of popularity and global use. Because of the widespread proliferation of Instagram users worldwide, style-savvy fashion bloggers have taken the reigns of the social media platform to broadcast their own personal style and to showcase the latest fashion trends for upcoming seasons. There are thousands of expert fashion bloggers to follow on Instagram, so finding users who have a similar style to your accessories store is only a few clicks away. Why invest time into this? Independent studies demonstrate that at least 30 percent of Instagram users have purchased a product they first discovered on the photo-sharing app. This presents a monumental opportunity to keep up with Instagram users as a business owner. From preppy to urban and everything in between, Instagram opens the doors to a world of fashion that makes finding style inspiration easier than ever before. Follow influencers with styles that align with your sunglasses boutique by consistently checking relevant hashtags and by finding pockets of engaged audiences.
Study the Runway
Fashion designers are eager to accessorize their models with the latest eyewear trends because of the distinguishing edge sunglasses lend. Fashion shows feature the styles that are bound to line the windows of shopping malls in the coming year, so paying close attention to the looks walking down the runway can give you a glimpse of what the future holds. Additionally, models have become large influences on the younger generations. If this is your demographic, paying closer attention to what these models wear on and off the runway can be beneficial to scouting the next big trend.
Online Fashion Blogs and Websites
Gone are the days of tangible news periodicals or glossy fashion magazines. People have the power to view what they want when they want in just seconds by logging online. While magazines like Vogue, Harper's Bazaar and Marie Claire have sat as the authority of the fashion industry for decades, new bloggers and chic websites have taken off as a more reliable and direct digital source of what's to come. Hyper-niche websites like Who What Wear and Stylecaster focus on accessible fashion content that's not only attainable to the super wealthy but to the everyday person interested in the latest fashion trends. Bloggers like Leandra Medine from the ManRepeller blog and Aimee Song of the Song of Style blog have also transformed simple blogs filled with outfit details to include expanded content like restaurant guides, interior design recommendations, and beauty approvals. These men and women have become authorities in all things style. Look to these websites to feel the pulse of the latest trend and for new sunglasses spotting.
Consider the Season
Seasons are vitally important in the fashion industry, as they constitute which trends will come into style; however, there are two certainties you can count on each year. One, some styles are timeless and appropriate all year long. Two, some sunglasses styles reappear during certain times of the year, like festival season!
Once warmer weather approaches, stock up on aviator-style, horn-rimmed and wayfarer-inspired sunglasses for a timeless spring or summer look. When it comes to prepping for festival season, look to unique options to fill your inventory. Try shades with mirrored lens colors that reflect pinks, blues and greens, or look for styles with quirky, clear rim designs! Remember that festival outfits need a bold pop of color or a unique frame shape like notched-bridge frames or round sunglasses.
Sunglasses offer fashion-savvy people the perfect opportunity to show off their own unique personality and stylish flair. Anticipate what the next big thing is by keeping up with social media, bloggers, influencers, niche websites and upcoming seasonal events. You can be sure that eFocus will carry all of the fashion industry's latest styles at a fraction of the price with our wholesale sunglasses!
What's your guess for the upcoming fall's trend? Let us know what your favorite sunglasses trends are in the comments below!