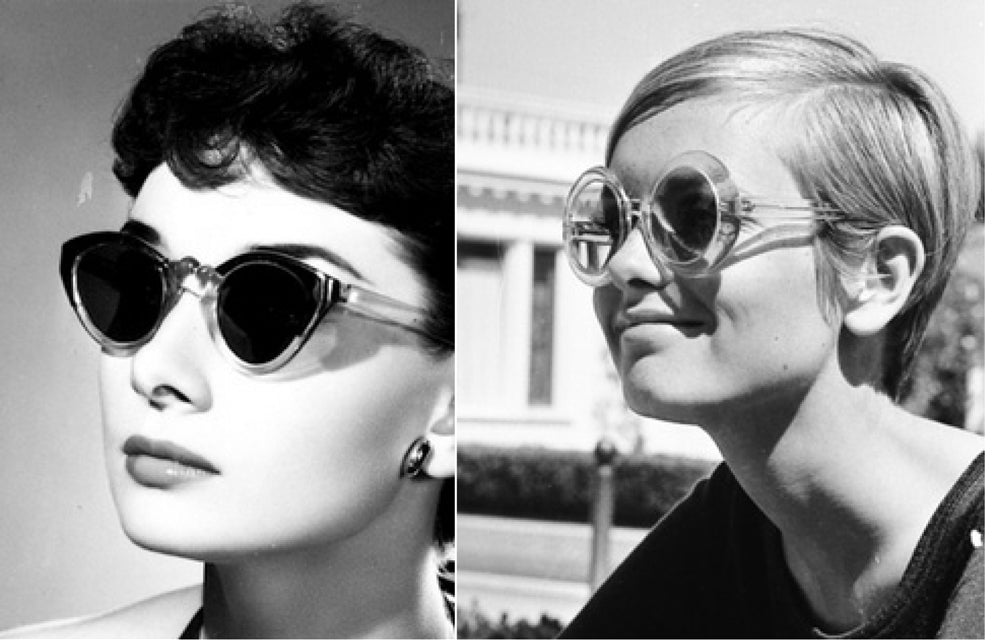 4 Retro-Inspired Sunglass Frames Here to Stay
It's only a matter of time before what's old becomes new again. This is especially applicable in the reintroduction of fashion trends from eras past into recent runways and the street styles of today. When it comes to sunglasses in particular, it's easy to spot the decade-long trends that inspired the 60s, 70s and 80s. We believe that when a fashion accessory is so well designed, it becomes timeless. We've kept a close eye on several different frame styles that have become new again so you can stock your virtual and real shelves with alluring frame shapes reminiscent of the fashions that shaped the past.
Cat-Eye Sunglasses
First on our list is quite possibly the most instantly recognizable frame shape—the cat eye! Made popular in the 1950s by chic working women, the original cat-eye glasses featured small lenses and a sharp upturn at the temples. Worn by Hollywood actors like Marilyn Monroe, Audrey Hepburn and Grace Kelly, the frame has gone through different design changes to keep up with modern times, such as a larger frame size and a reduction in the sharpness of the feline-inspired wing for a more subtle cat-eye shape.
More modern cat-eye sunglasses like the ones below include fun prints, colors and gradient lenses. When choosing the right cat-eye sunglasses, remember that the style tends to be bigger and fiercer than ever.
Browline Sunglasses
Ever so popular in the 1950s and 1960s, browline sunglasses were easy to spot because of the thick upper portion along the frame that draws attention to the natural brow line. Utilized primarily as reading frames, the style was quickly adopted with darker lenses for sunglass wear. Everyone from James Dean to Malcom X was seen wearing browline glasses. Dubbed the intellectual or "nerd" frame, these retro sunglasses are such a classic silhouette and lend a seriousness to the wearer.
The browline is definitely back in style! They have been modernized with lighter plastic construction for more comfortable wear and are available in different patterns and colors.
Round Sunglasses
Best associated with the 1960s and 1970s, these types of shades are often referred to as "hippie sunglasses" because of their popularity among celebrities and pop culture icons of the time, such as musicians, models and even First Lady Jackie O.
These rounded sunglasses are much bolder than your average pair of shades because they combine a boho-indie aesthetic with eye-catching modern details like a colored or mirrored lens.
Plastic round frames like the ones below are in almost the exact style of those worn by supermodel and Andy Warhol muse Twiggy; however, we've modernized the look with neutral gradient lens color choices and updated frame shades in tortoise.
Classic, lightweight round metal frames like the pairs below are so closely associated to John Lennon because he wore round glasses and sunglasses year round. We offer a variety of metal round sunglasses that meld contemporary appeal and a retro vibe with fun neon and neutral colors.
Round sunglasses can add a laid-back, cool touch to any look. Keep the selection in your store diverse by opting for a mix of colors and materials to appeal to a wider audience.
Aviators
Made popular by celebrities like Michael Jackson at the 1984 Grammys and especially Tom Cruise in the 1986 film "Top Gun," aviator sunglasses were all the rage throughout the 80s even though they were developed in the 1930s exclusively for the US military. The frame is still very closely associated with pilots, police officers and outdoor enthusiasts.
From metal-framed to plastic-framed aviators, these classic sunglasses give off an instant old-school yet cool vibe.
The classic teardrop frame is flattering on a variety of face shapes and has since been updated with new features like polycarbonate, three tones and mirrored lenses.
By offering different shape styles and colors of retro classics to your customers, you're able to appeal to a versatile clientele that pulls fashion inspiration from all decades! Many simply want the vintage look without the high price of vintage items, so shop eFocus for all your wholesale retro sunglasses needs.